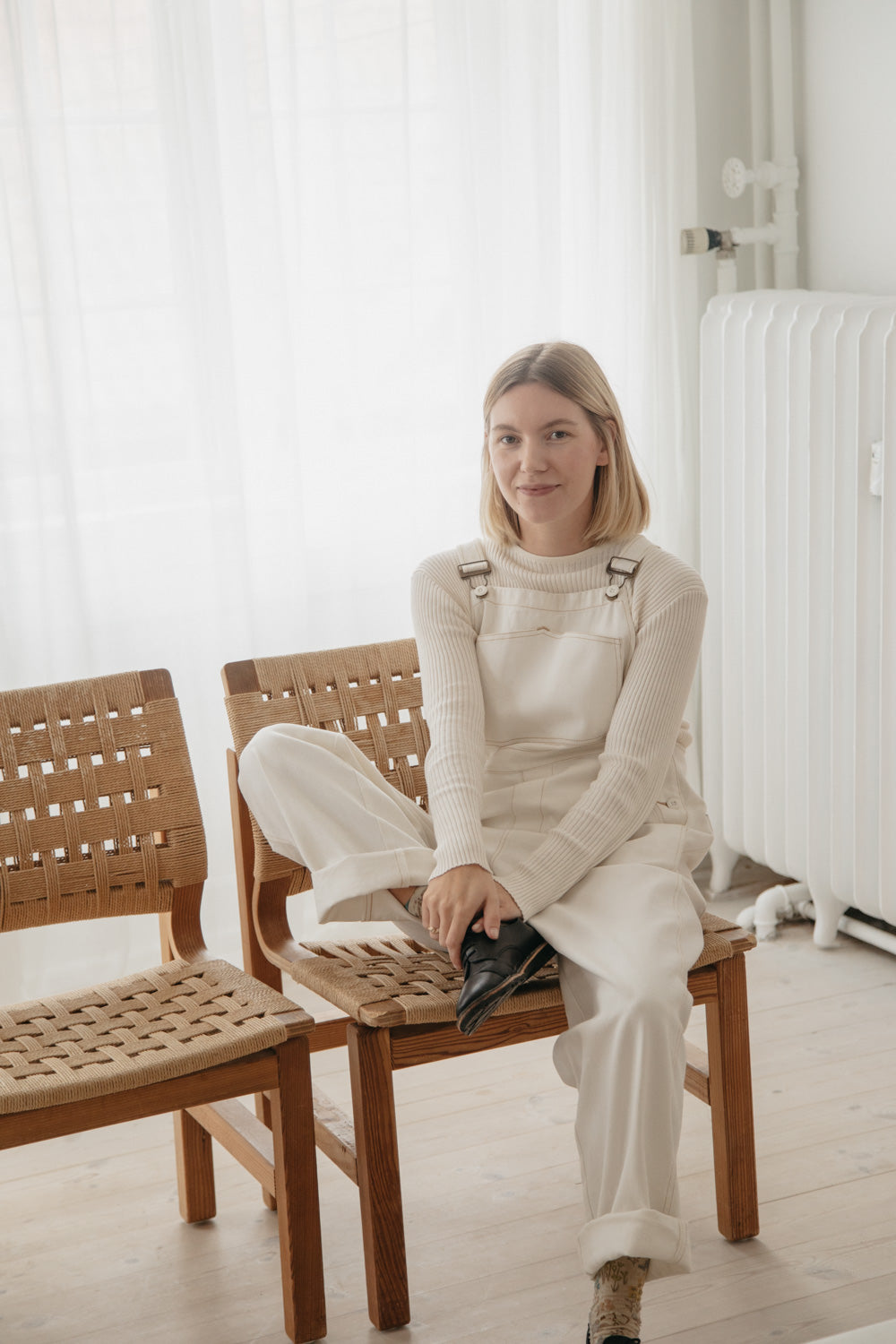 Anna Engstroem
I am so thrilled to feature Anna Engstroem in our Thoughtfully Considered journal series. I have been a fan and follower of Anna's for years and was so happy we finally got to connect in person during my trip to Copenhagen.

Anna is the creative force and founder of Vieille. Now with a beautiful shop in Copenhagen, selling Handmade clothing, ethically made in Denmark, vintage treasures & curated objects.
It was such a pleasure to tour her studio, get a peek behind the scenes and chat with her about life as a designer, entrepreneur and mother.
What does this season of life look like for you? Describe a typical day/week?
Being a mother of two small kids, 50% of a typical day is chaos. I try to start the morning with a hot cup of coffee, and otherwise just getting the family ready to rush out the door. After school drop-off I go directly to my office, which is very close to our home. My office feels like a second home to me. Light and calm, room for creativity, and most of all quiet. I usually start the day here with some breakfast, making sewing plans for my seamstress and afterwards I start packing orders. I personally love packing orders myself, as I love to have each piece of clothing in my hands and write a personal note, before the order is heading out to customers.
Around 3 o'clock I pick up my kids and take them home for some afternoon snacks, games, reading books and watching Disney movies. You will most likely find me in my sofa under a blanket with a cup of tea and some chocolate around 8 o'clock in the evening, trying to calm down replying on emails and then heading to bed early.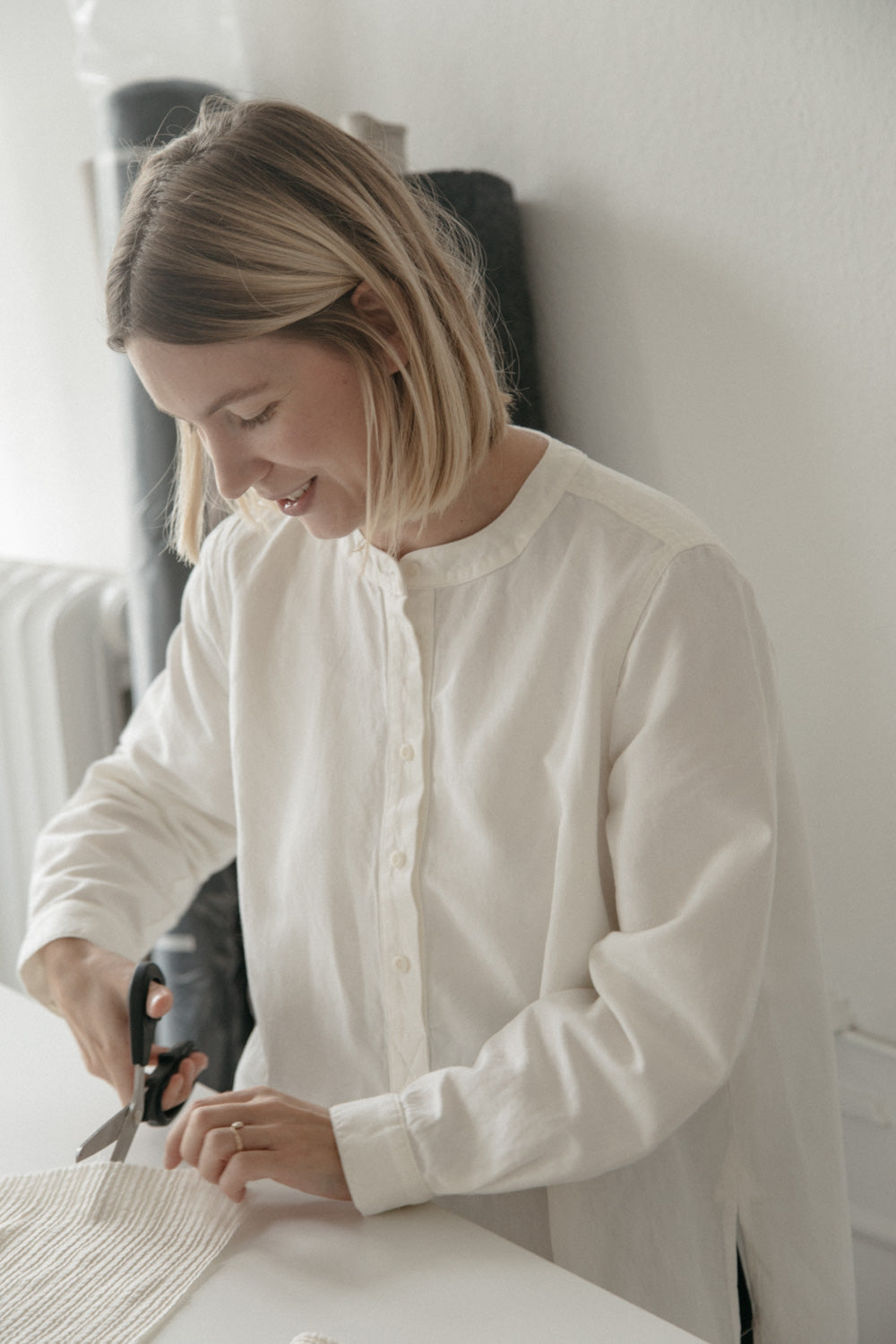 What's something you have been learning lately? 
Focusing on my breathing, when I'm facing difficult situations. When it comes to motherhood but more often when it comes to running a small business on my own. Problems will always occur, but it has taken me some years to learn that facing problems is okay. Breathe in – breathe out – do not take it personally – find a solution, stop worrying. This has given me so much peace in my everyday life.
Is there something you tend to collect?
I'm always collecting good sweaters. If a sweater has the right fit, made in good quality and you take good care of it, you can have it for a lifetime. You can also use a sweater all year around. From cold winter mornings with a pair of jeans and boots, to a summer evening over your dress with a pair of slippers.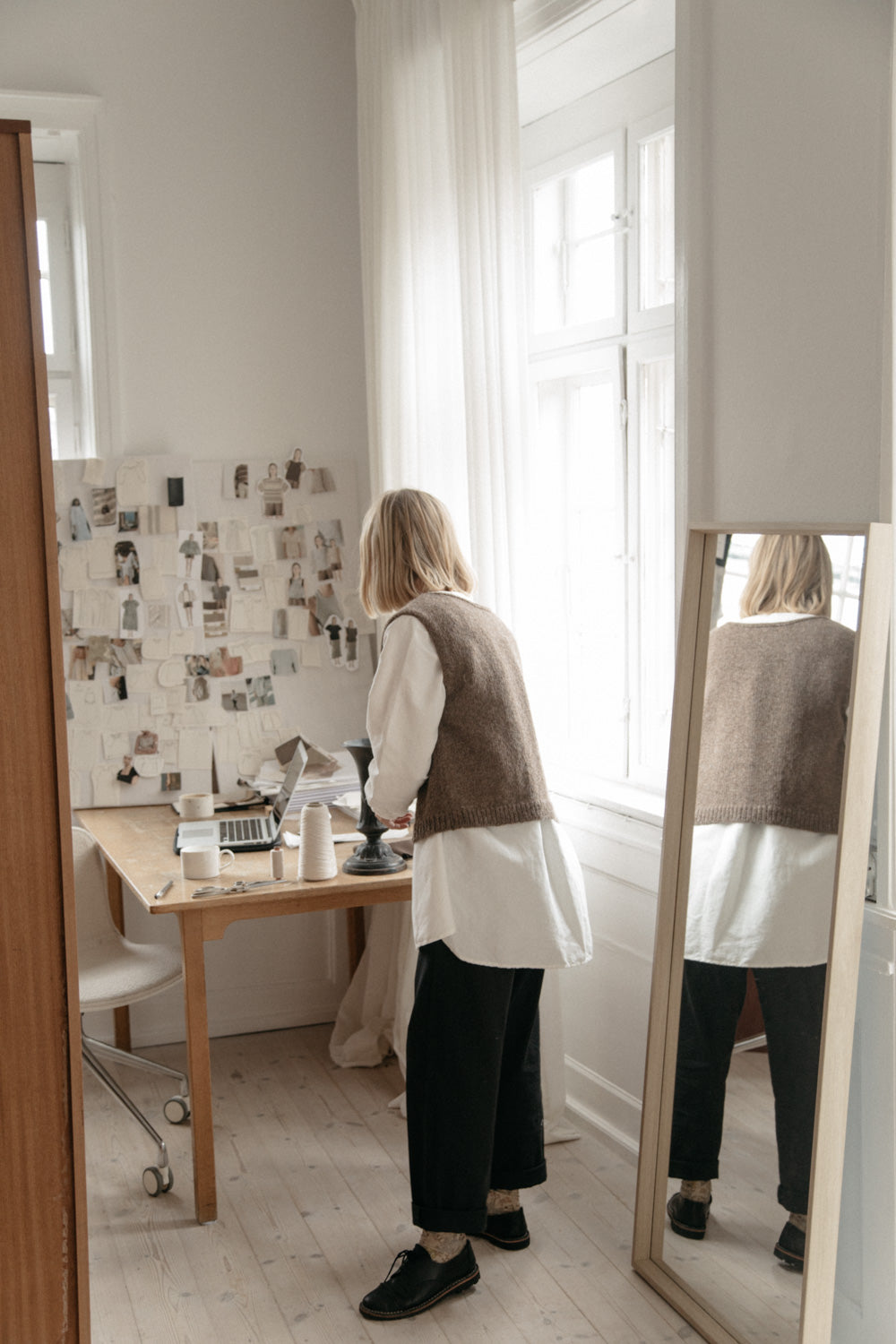 Can you share about your upbringing? What experiences have most led to who you are today? 
I grew up in a small suburb town just by the sea in Denmark. Found it super boring, to be honest, and I knew by an early age that I wanted to work in the fashion industry, which everyone told me was impossible, as I didn't knew anyone from the industry.
As soon as I gratuted high-school I was hired as a fashion assistant on a Danish fashion magazine and worked there for a year before other doors and opportunities started to open for me. I moved on to working with PR, styling and creating content for some popular danish brands within fashion and interior.
After becoming a mother, I wanted to slow down – and Vieille became my project of doing so. It's still important for me to pick up my kids early as my own mother did with me and my brother, and it's also important to me that all employees have time and space to be mothers alongside working for Vieille.
Another creative passion that you would love to pursue one day?
I love collecting vintage furniture as well. I don't really have any more space in my own home, so I think I will start collecting some for Vieille to put for sale.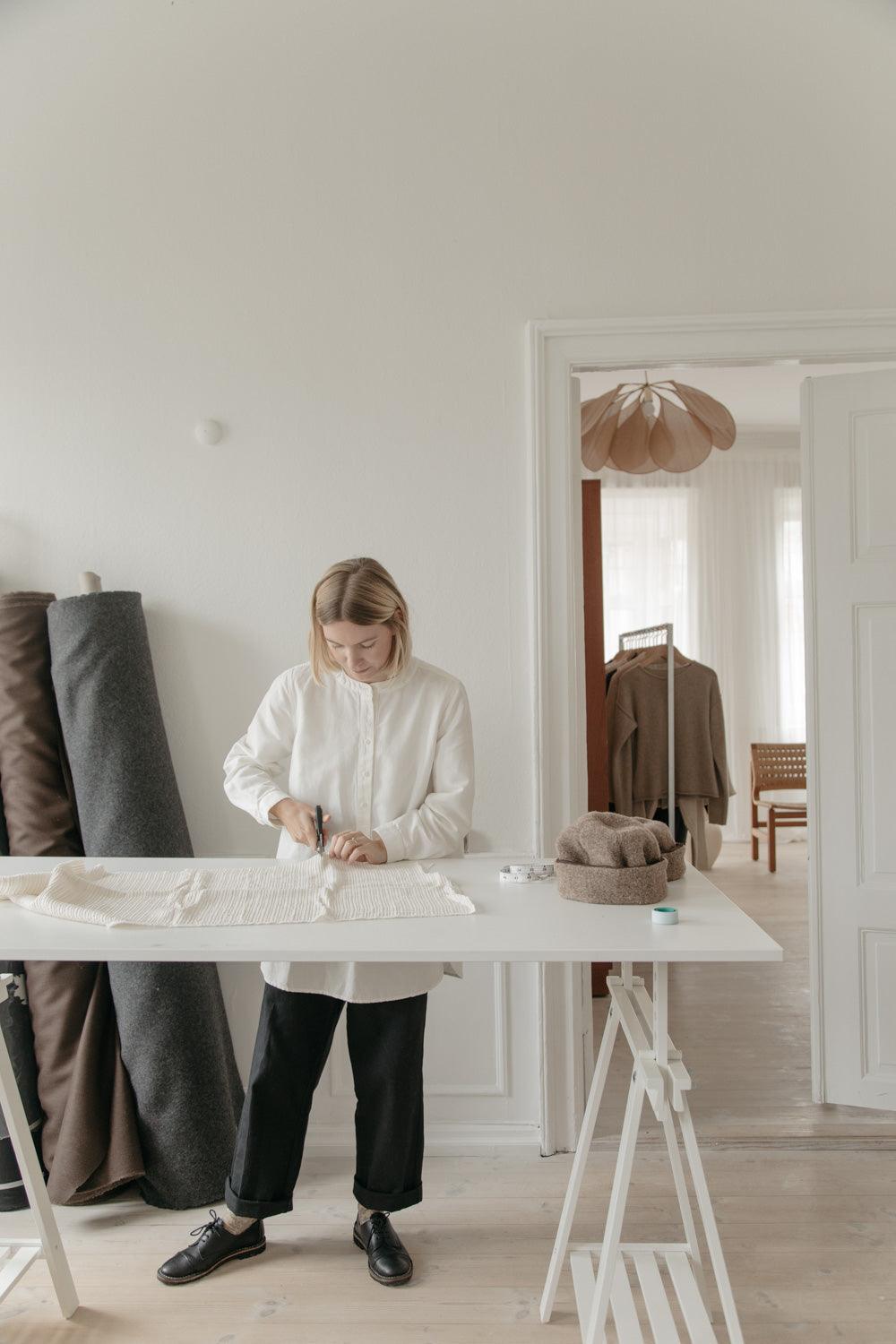 Tell us a little about your work process. Where do you find inspiration and how does that lead to the beautiful pieces you create? 
Collecting vintage pieces has always been a big interest of mine – since I was a child. Vieille started of as an online vintage shop (Vieille means old in French) so most pieces are inspired by timeless vintage pieces. I love browsing though old collections of for example Hermes and see if I can draw any inspiration from their past collections. Right now I'm super inspired of timeless pieces created in the 90s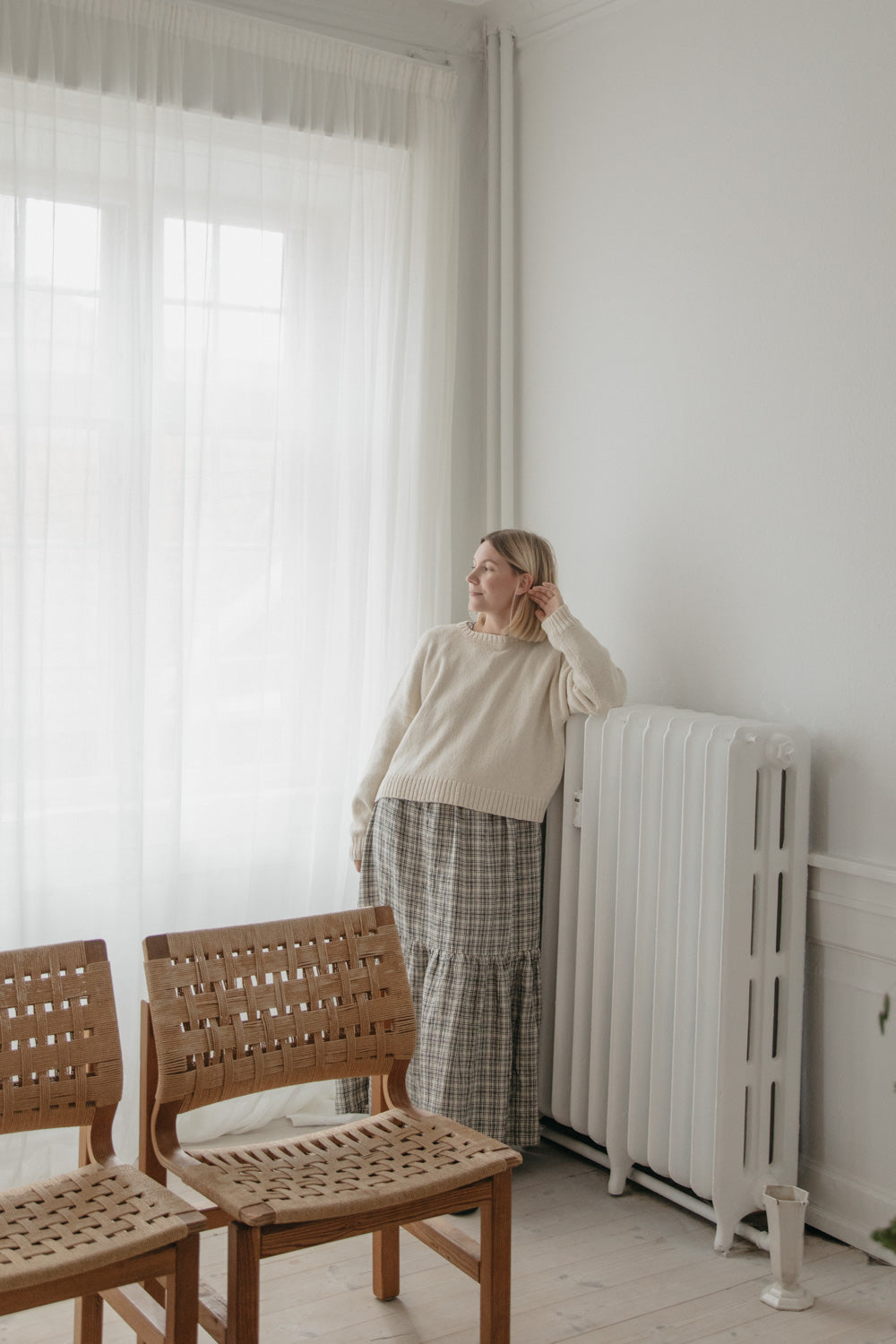 Vielle is all ethically made by refugees (so amazing!), can you share more about this and why you chose to manufacture this way? 
Being a refugee can be super difficult in Denmark. When you come here with an education, you will most likely need to take a new one that goes with danish standards. This can be tough to do, while also learning the language, having kids and being in an unstable situation where you don't know for years if you're able to stay here. In the past 50 years, we havn't has a history of local clothing manufacturing in Denmark, this has been outsourced to east Europe and Asia. But we do have a lot of talented refugees that comes from countries with a great history of local production, so that's why I thought I would give these men and women a chance to get a job in Denmark where they can use all of the expertise they come with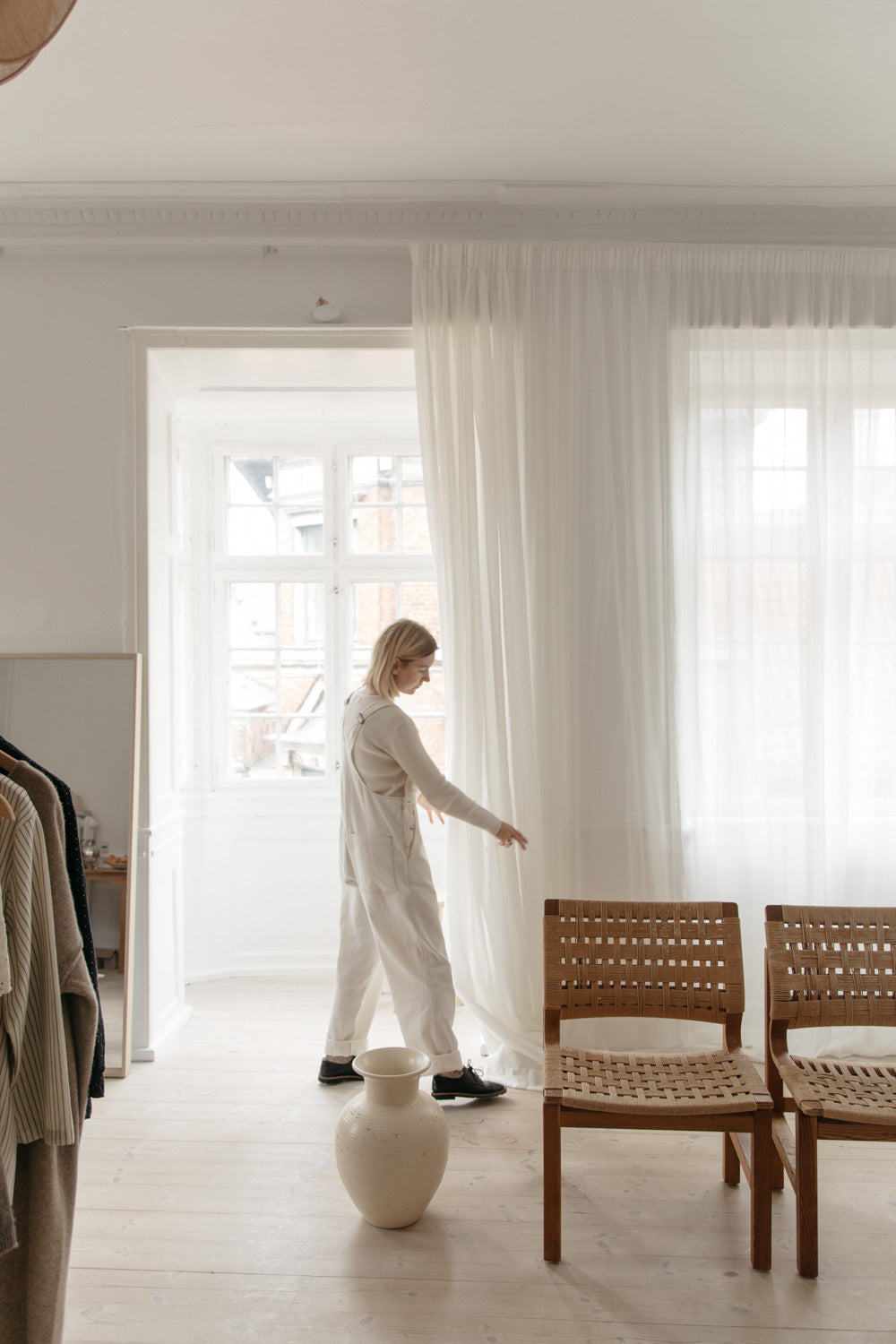 Something you "swear by" or recommend frequently?
Take care of yourself! Take some breaks and let yourself do whatever you want / need. Don't feel bad about it, even if it's a weekend in bed binging silly tv and eating candy.
Anna wears the Henry Overalls, Anna Knit Top, Theo Tunic, Briar Knit Vest, Faye Dress and Ilse Pullover.