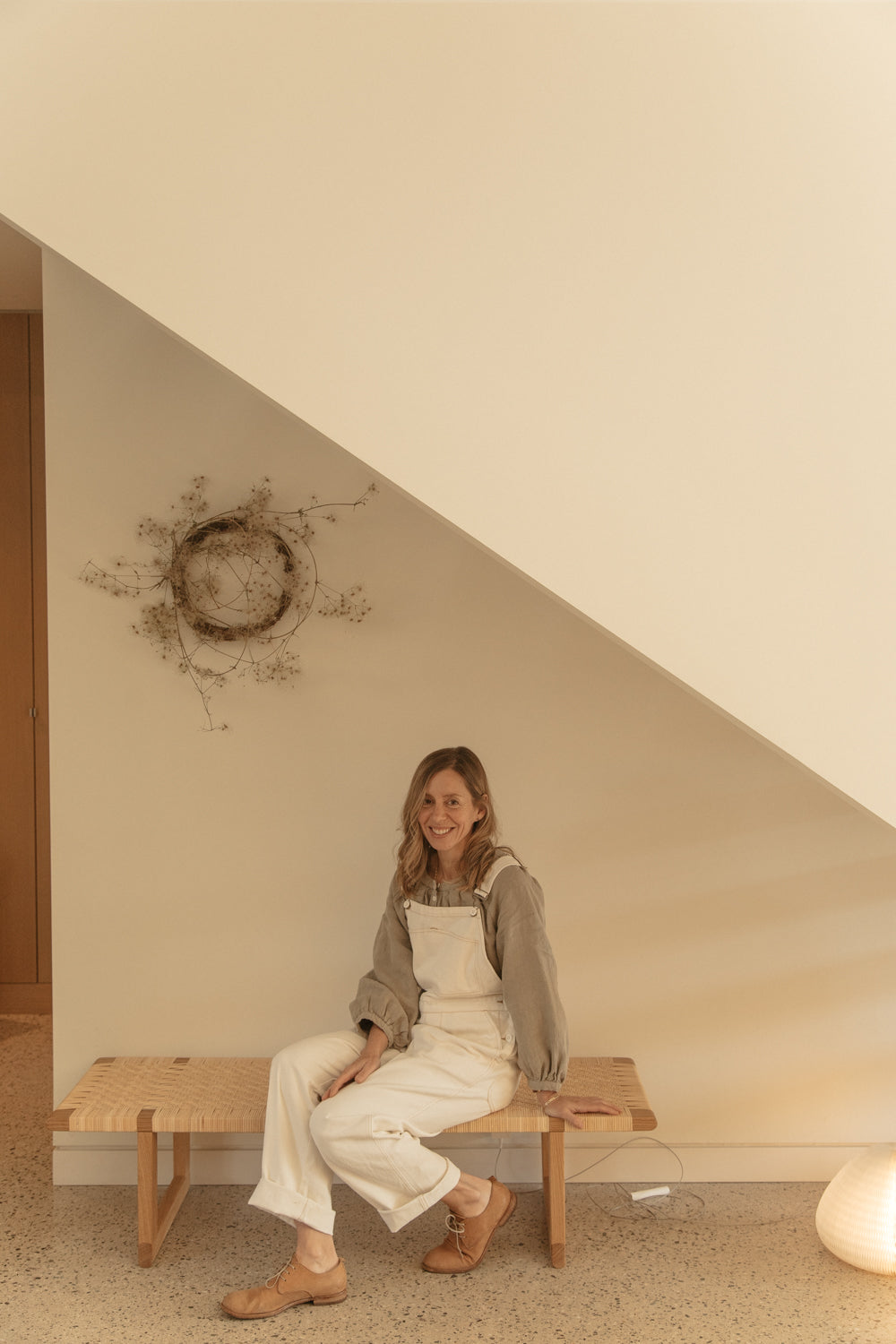 Anna Lambert
Anna Lambert is the talented floral designer behind Nevefloral based here in Vancouver. We had the pleasure of connecting through a mutual friend, and it has been such a pleasure watching her grow and develop her passion and business.
We met for a winter afternoon in her home, where the sun poured through the windows and illuminated the thoughtful touches surrounding her living and work space.
Keep reading to get to know her more below.
What does this season of life look like for you? Describe a typical day/week?
My work tempo varies from season to season in response to events, wedding and holiday design work and
the flower season. Weekday mornings Peter leaves early for work and my twins Audrey and Oscar get
ready for school while I have coffee and breakfast. If I have a slower week, I will go for a run before
heading to the flower wholesale market. The beginning of the week is spent preparing and conditioning
flowers and the end of the week is spent designing and planning for the following week.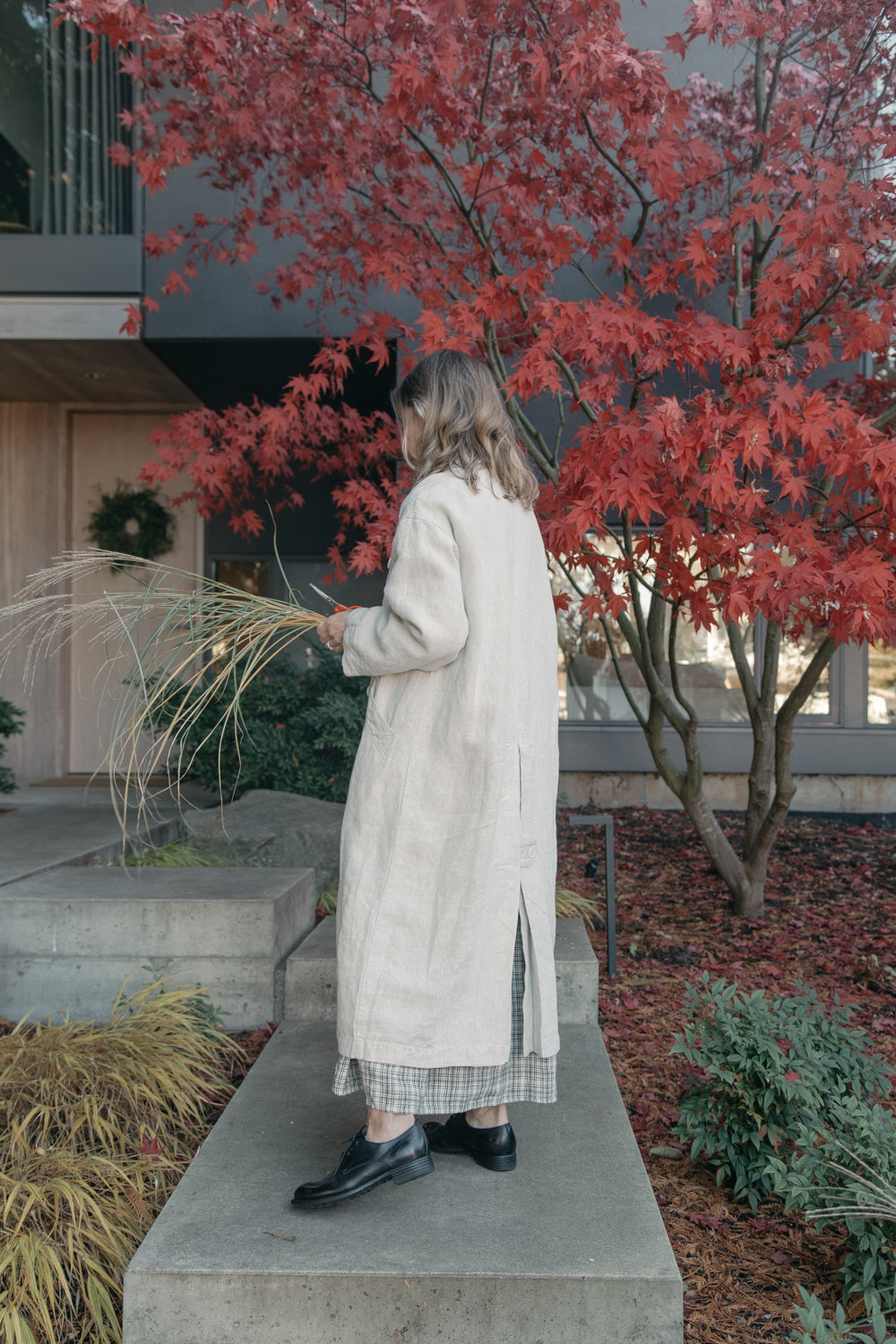 What's something you have been learning lately?
I am always sourcing and looking for inspiring ingredients and materials to inform my designs. Lately, I have been visiting gardening centres and even produce markets in search for color, texture and form inspiration.
I am intrigued with biophilic design and how it can be applied to floristry. I am learning and testing different plants and styling them with fresh and dried florals.
What are you passionate about?
I am happiest in nature. I tend to collect things from my walks or hikes. I drive my kids crazy with my
collection of flowers, mosses, grasses or interesting twigs! When I'm running or walking, I am looking at my surroundings and thinking about floral design forms, colors and textures. Nature is really the best
design guide!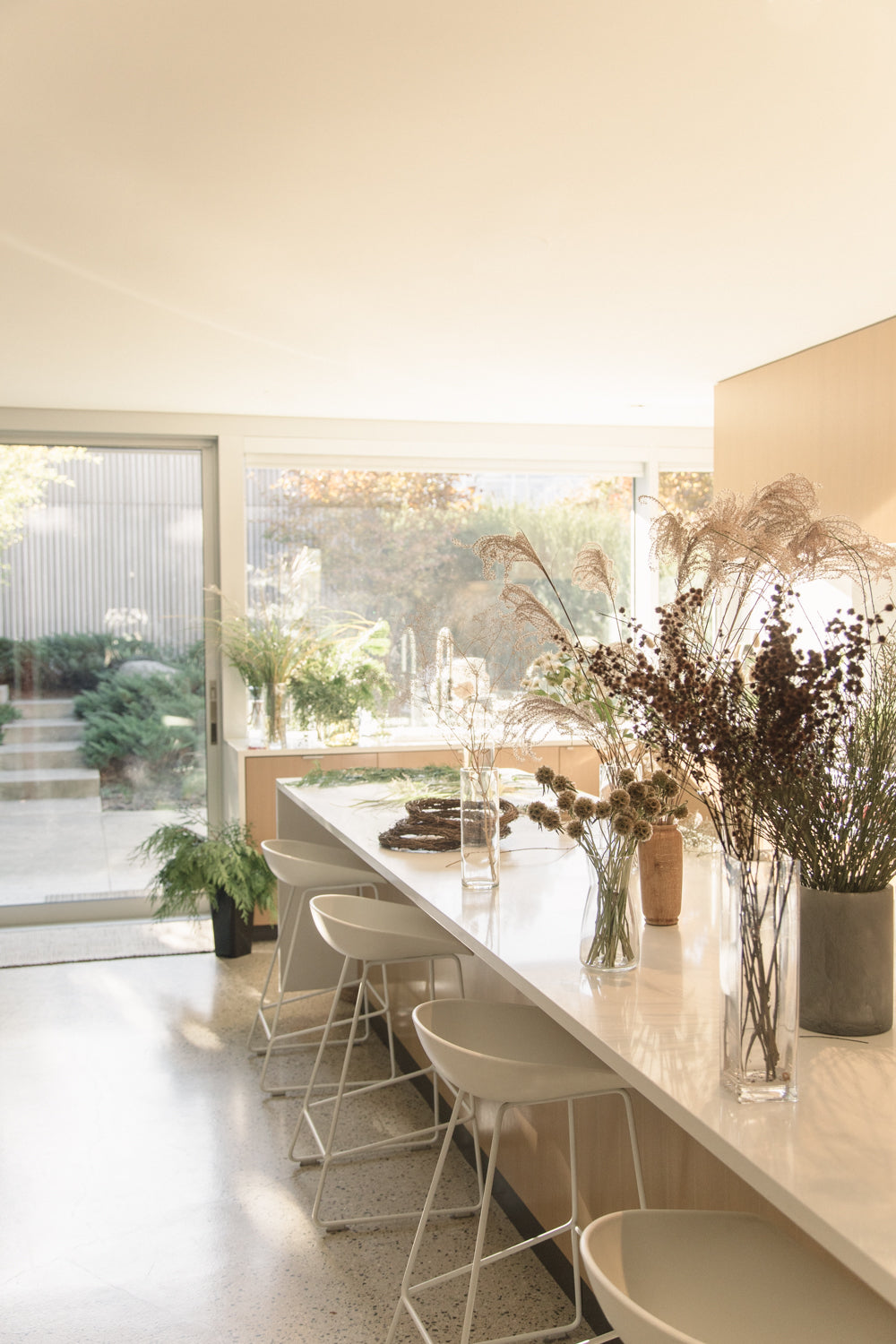 Can you share about your upbringing? What experiences have most led to who you are today? 
My parents emigrated from a small town in Puglia, Italy to Vancouver in the late 60s. My parents had a tireless work ethic and learned English without formal education. My father was an entrepreneur who built his craft as a stone mason into a viable trade. His meticulous eye for details and perfection really shaped how I work.
When I was a child, my parents grew their own vegetables and had a huge larder of conserved tomatoes, pickled vegetables and preserves. I grew up eating cucina povera, the no-waste "poor cooking" tradition from their upbringing.
I cooked alongside my mom from a young age and realized that working with flowers is in many ways quite similar to this method of cooking. In floristry, one must be creative with the ingredients you have, trust your instincts and don't follow a strict flower recipe per se, find ways to use left over flowers and foliage, source local and seasonal ingredients when
you can, invest time in ingredient preparation and planning; and finally experience the positive benefits
from the happy recipients receiving your creations.
Is there something you tend to collect?
I collect handmade ceramics and objects made with wood. I admire ceramic artists and woodworkers for
their skill and craftsmanship. Flowers as a design medium are very forgiving and fluid, you can always
edit or take your designs apart and start over. Clay and wood are not that way, you must have the
confidence to fully commit!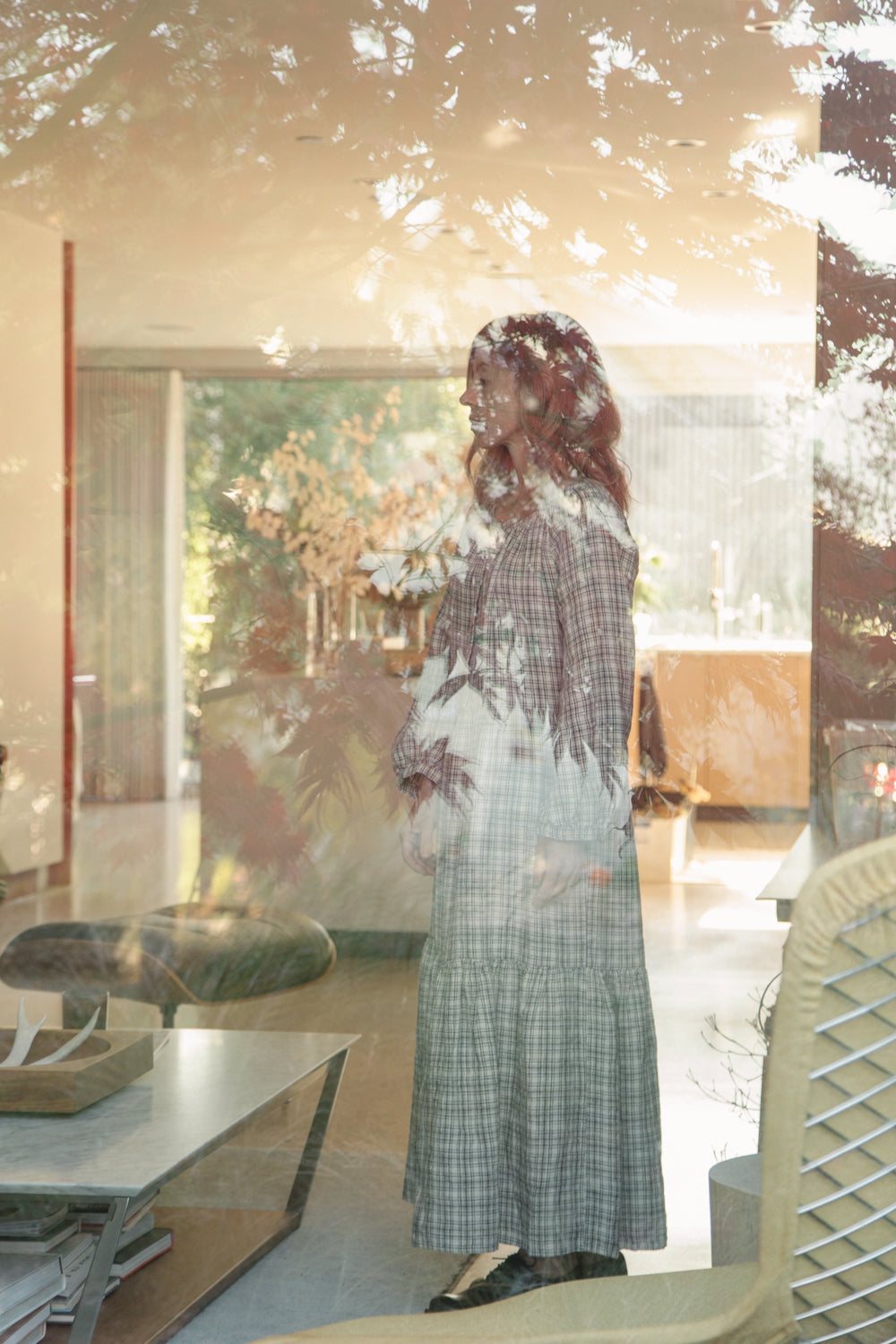 Describe your "everyday-wear."  
I've always dressed the same; it's a cross between menswear with some feminine touches. I like mixing loose fitting trousers with a fitted floral print button up blouse, a touch of jewelry and classic shoes like brogues. Recently, I edited my clothes and accessories and invested in a few timeless pieces, a cashmere sweater, black wool trousers, a trenchcoat and a long floral print dress.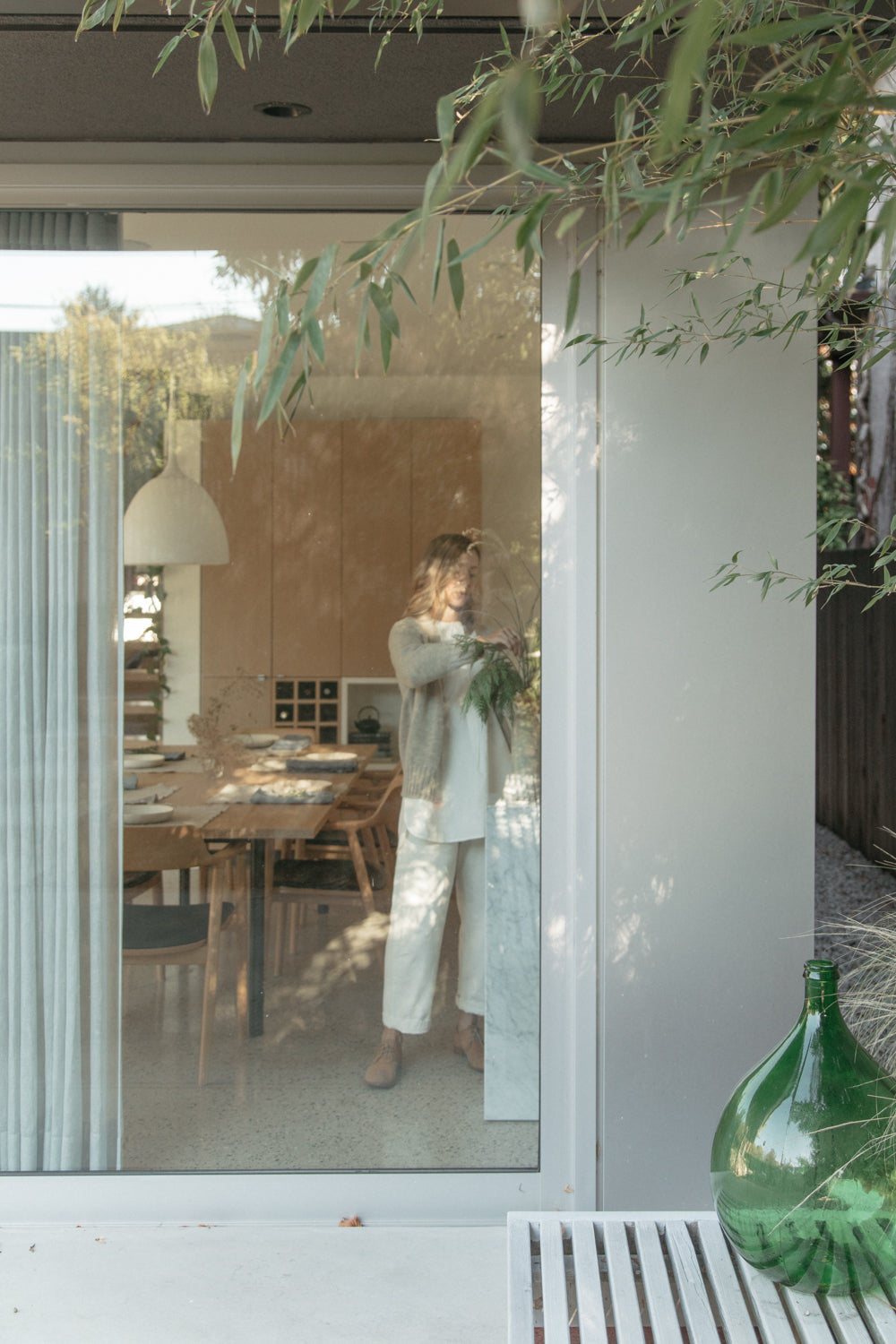 Something you "swear by" or recommend frequently?
I think it's important to have family rituals and
routines that bring us together. Almost every day our family eats dinner together. Pete and I usually plan and prepare dinner, while Audrey and Oscar set the table and clean up. Home cooked meals with everyone at the table was what I grew up with, we hardly ever went to a restaurant!
Favourite place to escape to in nature when you want to take a breather or clear your mind?
Qualicum Beach.
Anna wears the Henry Overalls, Anais Top, Faye Dress, Nora Trench and Theo Tunic.